When traveling on the coast of Australia or walking in the city, you will always find bush tuckers. You will probably not notice them so most Australians, but food is available wild in every corner. Like Louise Brennan, an Australian schoolteacher once told me: "if the first settlers had taken the time to listen to the Aborigines, they wouldn't have starved to death, food is everywhere".
The most common bush tuckers that you will find around most beaches in Australia are the Pig Face and the Warringal Green. Check out the photos above, they will help you recognize them.
The Pig Face
It can be found in sand dunes around most of Australia. It is a type of succulent running creeper with thick and juicy leaves and purple flowers and berries.
Cooking and medicinal uses:
You can crush the leaves and use them in a similar way as Aloe Vera.
You can eat the berries straight off the plant; they are light, sweet and a little salty as well. They also make a great addition to meat and savoury dished and can be used as a salt substitute. Apparently you can also boil the leaves and used them as green but personally I have always picked the berries raw and eat them straight off the plant whenever I am at the beach.
Permaculture uses:
They are a great drought tolerant ground cover, ideal in mediterranean food forest as part of a guild with olive, fig and apricot trees. It also attracts beneficial insects and birds and provides habitat for wildlife.
The Warringal Green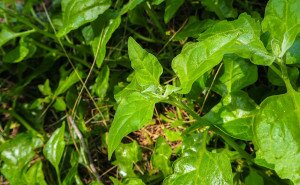 Warringal green is a drought and frost tolerant ground cover, which grows all year round and is readily available throughout Australia and New Zealand near waterways and on the coast.
Cooking and medicinal uses:
Also called Warringal spinach, it was one of the first popular bush tucker among settlers as its high vitamin content helped to fight scurvy, captain cook encouraged his men to eat them. Though some caution needs to be taken as the leaves contain toxic oxates, which can be harmful if consumed in large quantities. Blanch the leaves for 3 minutes and rinse them before using them in cooking or salads.
Permaculture use:
It will survive the hottest summers without water and the coolest winter and will be a great spinach alternative when most greens struggle to grow. It is also a pioneer of bare soil and can be dug in as green manure. It makes great compost and it has no enemies, birds, snails and slugs seem to avoid it. You can grow it under trees to keep the weeds down or in very shady area where nothing else grow. It is a great Permaculture plant in Australia.
There are also a few natives raspberries, especially in Queensland though they are a little bit more difficult to recognize and can be taken for something else so I don't recommend experimenting with them without doing a little homework.
Here is a good blog with many bush tucker recipes, which can easily be search by bush food.
Next time you are at the beach, look for these bush tuckers, as you will find them no doubt and they will be a great addition to your dinner.